Common
Menopause

Symptoms
Hot Flashes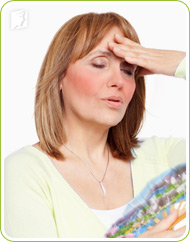 Hot flashes, also known as hot flushes, are sudden and brief sensations of heat spreading over the body, especially on the face and chest. Some women experience delicate flushes, while others feel as if they were being engulfed in flames. Oftentimes, hot flashes are also accompanied by chest palpitations, pressure in the head, and flushing.
Did You Know? Up to 85% of middle-aged women report experiencing hot flashes.
What to Do for Hot Flashes?
Finding Relief: Opt for foods rich in phytoestrogens and vitamins C and E; exercise regularly in well-ventilated spaces, and practice yoga or deep-breathing exercises to moderate stress. Remember to wear loose, breathable, cotton clothes and to cool yourself down with icy drinks and cold showers.
Treatment Options: You can relieve hot flash symptoms with alternative medicine, including phytoestrogenic and hormone-regulating supplements, or conventional medicine, such as hormone replacement therapy (HRT). Be cautious as HRT can cause serious side effects.