Most women are able to manage the majority of their menopause symptoms, such as hot flashes, fatigue, and irritability. Libido loss, however, can be one of the most difficult symptoms because it affects such an important part of your life.
Libido loss is painful because it impacts a central component of your relationship: your sexual attraction and desire for intercourse with your partner. Even so, there are steps you can take to boost libido. Some of these steps involve something that might be surprising: the food that you eat.
How Does Loss of Libido Work during Menopause?
For your entire adult life, your hormones have essentially been balanced. Menopause involves the temporary loss of that balance. Your estrogen levels drop, your periods become delayed, and you might feel irritable, anxious, depressed, or excited for no apparent reason. In the midst of all this, it's no wonder that your desire for intimacy can become lower.
When will libido improve? Many women report lower sex drive into their postmenopausal years, possibly due to lowered estrogen levels during and after menopause. But many women can combat these symptoms without using risky hormone replacement therapy (HRT).
Foods and Herbs to Boost Libido
In general, it is best not to simply go on popular belief when it comes to "aphrodisiac" foods. Many of these are not backed by scientific evidence. While there is no tried and true method for replacing libido during menopause, eating some foods can make a difference. Foods containing phytoestrogens may help some women, as they tackle the root cause of menopause symptoms: hormonal imbalance. These include soy products and also a variety of herbs including ginkgo, ginseng, black cohosh, and dong quai. Make sure you talk to your doctor before taking high doses of phytoestrogens.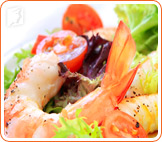 Beyond phytoestrogens, eating generally healthy foods that are low in fat is a good way to boost your energy, health, and sex drive. Try incorporating fruits and vegetables, nuts, and fish along with other seafood into your diet. Adding or increasing these foods will promote better health and hormone balance during menopause, which can lead to improved libido.
Click on the following link to learn more about loss of libido during menopause.
Sources
Albert, A. et al. (2002). Efficacy and safety of a phytoestrogen preparation derived from Glycine max (L.) Merr in climacteric symptomatology: a multicentric, open, prospective and non-randomized trial. Phytomedicine, 9(2), 85-92. Retrieved from http://www.ncbi.nlm.nih.gov/pubmed/11995954
National Health Service UK. (2015). Sex after the menopause. Retrieved January 28, 2016, from http://www.nhs.uk/Livewell/women4060/Pages/sex-after-the-menopause.aspx
Studd, John. "Loss of Libido and Menopause". The Management of Menopause. Annual Review 1998. Partenon Publishing.
Channon L.D and Ballinger S.E. "Some Aspects of Sexuality and Vaginal Symptoms during Menopause and their Relation to Anxiety and Depression". British Journal of Medical Psychology. June 1986. 59 (2): 173-80.
Sarell, Philip, M.D. "Psychosexual effects of menopause: Role of androgens". American Journal of Obstetrics & Gynecology. March 1999. 180: 3S-II.