Staying physically active is important, but exercise is especially beneficial during perimenopause. The hormonal fluctuations during this stage may have side effects, one of which is weight gain. The added weight is definitely manageable through a wide variety of exercises.Keep reading to find out more about perimenopause causes.
Causes of Weight Gain during Perimenopause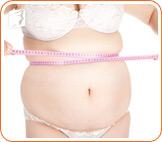 During perimenopause, the female body begins to reduce the levels of production of estrogen, progesterone, and testosterone. These essential hormones influence nearly every cell, organ and function in the body, including weight. Low hormone levels may increase appetite, fat storage and water retention, all of which may lead to weight gain.
Exercises for Perimenopause
Here are three easy ways to get rid of those excess pounds during perimenopause:
Zumba
It's no wonder zumba has taken the world by storm; the exercise offers all the benefits of a regular cardio workout without the dull repetition of running for hours on the treadmill or walking on the track. Zumba combines moves from hiphop, salsa, meringue, mambo, martial arts and bellydancing into one workout.
Hot Hula
The latest fitness craze known as "hot hula" is a combination of hula dancing and reggae music. The exercise focuses mostly on working the abdomen muscles. Hot hula additionally improves balance and helps tone the legs, butt and abs to keep cellulite at bay. Kick off your running shoes and go barefoot for this Pacific Island-inspired workout.
Swimming
If you're wary of working up a sweat and aggravating hot flashes, try a water-based activity like swimming or water aerobics instead. Swimming gives your body a workout from head to toe and provides you with the benefits of both cardiovascular and resistance-based exercises. It also increases stamina, strength and flexibility. Women looking for a low impact activity should opt for a water aerobics class.
Recommendation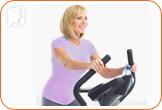 These exercises can help you stay in shape during perimenopause and be used with other treatments for hormone imbalance. Other approaches to curb perimenopause symptoms include the use of alternative treatments and pharmaceutical options.
Click here for more information about treatments for perimenopause.
Sources
BMJ Group. "Menopause: What is it?" Patient Leaflet. 2007.
Hopkins, Virginia. Lee, John R. M.D. What Your Doctor May Not Tell You About Menopause. New York: Warner Books Inc., 1996.
Love, Susan M.D. Menopause and Hormone Book. New York: Three Rivers Press, 2003.
Martin, Raquel. The Estrogen Alternative. Rochester, VT: Healing Arts Press, 2000.