As a menopausal woman, it's important to prepare for a sudden onset of symptoms, especially hot flashes. Remember the days when you used to carry extra tampons and panty liners in your purse, just in case? This is the type of tactic you should employ to prepare for hot flashes on a day out of the house.
Read on for tips on what to do to combat hot flashes during a day out.
Before You Go
In the morning, avoid coffee or caffeinated teas. These elevate body temperature, which can trigger hot flashes. If you're planning to travel via public transport, try to book aisle seats for easy access to restroom facilities. In addition, consider these tips so hot flashes don't get the best of you:
Hydrate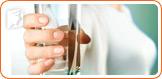 Keeping yourself hydrated is the most important thing you can do to prevent hot flashes. Experts recommend drinking eight 8-oz glasses of water a day to stay hydrated. Tuck a few water bottles into a backpack or large purse to make sure you have access to water when you need it.
Dress in Layers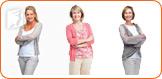 Dressing in layers can give you instant relief if you get overheated. Dress in breathable fabrics like athletic materials, which wick moisture away from your body and, more importantly, are fast drying.
Carry a Fan with You
A handheld fan is the perfect hot flash travel companion: this handy accessory is small enough to fit inside your purse and will provide you with fast and easy relief.
Always Have an Exit Strategy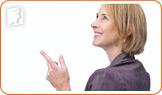 Whether your day trip involves a day at the museum or a theater, the first thing you should do when you enter a new place is identify the nearest restroom. You'll be glad you planned ahead in the event of a hot flash attack. Excusing yourself to the washroom will allow you some much needed cool down time, away from the crowds.
Recommendation
This article provides suggestions on how to alleviate the symptoms of hot flashes on a day trip. It does do not address the cause of hot flashes, which has been linked with hormonal imbalances.
Sources
Boston Women's Health Collective. "Hot Flashes, Night Sweats, and Sleep Disturbances." Our Bodies, Ourselves, 2006.
The National Institute of Health. "Signs of the Menopausal Transition." www.nih.gov
Von Muhlen, DG, et al. "A community-based study of menopause symptoms and estrogen replacement in older women." Maturitas. Sept 1995; 22(2): 71-8