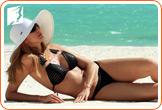 You've packed all your beach essentials: swim attire, towel, sunscreen, and the book you've been dying to read. But you also may be bringing an unexpected travel companion along with you - hot flashes. How can you enjoy your sunny outdoor vacation if you're constantly worried about the next hot flash episode? Read on for some ways to deal with hot flashes during vacations.
Why You Should Enjoy the Sun and Sand
While your first instinct may be to change your ticket from the beach to a vacation in Antarctica, remember that sunshine helps boost serotonin levels in the brain, which in turn combats mood-related menopause symptoms. Beach time doesn't have to mean baking under the hot sun. Here are five tips for enjoying your time outside without triggering a hot flash.
Don't forget your H20 in the hotel
Most experts recommend consuming the equivalent of eight 8-oz glasses of water a day to maintain general well-being. This will also provide the body with the hydration it needs to stay cool and prevent hot flashes. Carry a small cooler with you for easy transport to and from the hotel.
Avoid the beach during peak hours
This tip might be just as important as the last. Bathing in the sun when it's at its hottest - generally between noon and 3pm - is the forecast for a hot flash disaster. In addition, beaches tend to be the most crowded at these hours, and dealing with the stress of big crowds is a known trigger of hot flashes. If possible, try to find beach time in the morning hours or late afternoon.
Spend time in the water
The fresh ocean air and cool saltwater may be exactly what you need. To maximize your water time, rent or bring a flotation device that will allow you to bob in the waves for hours if you so desire.
Stroll the boardwalk
Take the opportunity to explore what the beach's boardwalk has to offer. Walking will help improve your circulation and increase endorphin production. If you're traveling with your partner, swap the boardwalk for a romantic walk along the beach.
Snack on something cold and refreshing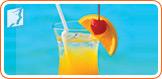 Beach days and cold treats go hand-in-hand, so treat yourself to something that will help cool you down. A nonfat frozen yogurt may be the best option for women who experience hot flashes: it's tasty and sweet, but contains less sugar than its ice cream counterpart.
Recommendation
Hot flashes are a common symptom of menopause, affecting about 75% of all women. The tips listed above can help you manage hot flash symptoms. If you want to learn more about treatments for hot flashes - such as lifestyle changes, herbal remedies, or HRT - click on the links below.
Sources
Lambert, G.W. (2002). Effect of sunlight and season on serotonin turnover in the brain. Lancet, 360(9348), 1840-1842. Retrieved from http://www.ncbi.nlm.nih.gov/pubmed/12480364
National Health Service UK. (2015). How flushes: how to cope. Retrieved January 21, 2016, from http://www.nhs.uk/Livewell/menopause/Pages/hot-flushes.aspx
Sikon, A. & Thacker, H. (2004). Treatment for Menopausal Hot Flashes. Cleveland Clinic Journal of Medicine, 71(7).
Weir, E. (2004). Hot flashes ... in January. Canadian Medical Association Journal, 170(1), 39-40. Retrieved from http://www.ncbi.nlm.nih.gov/pmc/articles/PMC305309/