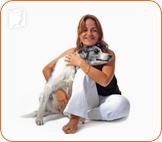 Not everyone enjoys typical exercise programs like running on a treadmill at the gym or going to aerobics classes. If the gym never sounds good to you, but you want to increase the amount of exercise you get every day, there many fun ways to do so. Adding more physical activity to your daily schedule and curbing menopausal weight gain doesn't have to be an unpleasant chore.
Dog walking is one of the most underrated workouts, and there are facts to support its potential benefits for overall health. Read on to find out how going for a stroll with your canine companion can help reduce menopausal weight gain.
Does Walking Your Dog Really Count as Exercise?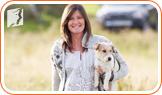 Leisurely walks are known in the fitness world as "mild to moderate" physical activity. Even though you may not break a sweat while walking your dog, it's important to remember that the most important indicator of physical activity is an increase in heart rate. You can definitely achieve this while walking, and if you want to increase cardiovascular heath, walk at a brisker pace.
How Long Should I Spend on a Walk?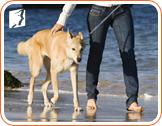 When taking your pet on a walk, it may last no more than ten minutes at a time, but that's okay. A recent study has shown that these short spurts of physical activity can add up to as much as five hours a week without seeming like much at all. In addition, if you also do recreational activities with your dog by taking longer treks at least once a week, you're adding more intense exercise and increasing the time you spend being physically active.
What Are the Benefits of Dog Walking?
In additional to the health and fitness benefits, walking a dog appeals to many people because it's a convenient form of exercise. Working out suddenly doesn't seem like such a bad idea when you're breaking it up into brief 10-minute episodes a couple of times a day.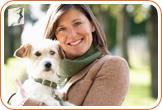 Spending more time with your pet is an added bonus. Workout time can simultaneously be a bonding time for you and your dog, while enjoying natural surroundings and moving your body more.
Strolling with your dog will also give you a motivation to exercise and lose weight. Studies show that dog owners are more likely to take frequent and longer walks with their pets because they see time outdoors and exercise as an essential need for animals.
Recommendation
Although walking your dog isn't a rigid fitness regimen, keeping to a daily schedule can help give you the motivation to exercise more. It will naturally increase your fitness level, cut back on weight gain during menopause, and improve your overall quality of life. Try getting outdoors with your pet at least twice a day to start feeling the benefits of more exercise in your daily life.
Follow the links below for more information on menopausal weight gain and treatments.
Sources
Better Health Channel. (n.d.). Dog walking - the health benefits. Retrieved February 15, 2016, from https://www.betterhealth.vic.gov.au/health/healthyliving/dog-walking-the-health-benefits
Office on Women's Health. (2012). Menopause and menopause treatments fact sheet. Retrieved February 15, 2016, from http://www.womenshealth.gov/publications/our-publications/fact-sheet/menopause-treatment.html
Westgarth, C. , Christley, R.M. & Christian, H.E. (2014). How might we increase physical activity through dog walking?: A comprehensive review of dog walking correlates. International Journal of Behavioral Nutrition and Physical Activity, 11, 83. doi: 10.1186/1479-5868-11-83