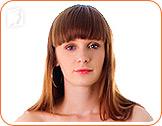 Coping with hot flashes, insomnia, and night sweats during menopause is never easy. Whether natural or induced by illness or medical procedures, early menopause has become a common reality for many young women.
Women undergoing early menopause often have to deal with emotional and physical changes including impending infertility.
Talking to your partner about the emotional and physical changes of early menopause. By recognizing the signs, you can understand what to expect and help your partner to understand what you are going through as well. Read on to learn more about early menopause.
What Are the Signs of Early Menopause?
Symptoms of early menopause often coincide with symptoms experienced by women undergoing natural menopause. They include: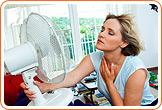 Irregular periods
Decreased libido
Irregular sleeping patterns
Hot flashes
Mood swings
Vaginal dryness
Urinary infections
In addition to the symptoms mentioned above, any woman under the age of 40 should consult with her doctor to determine the possibility of early menopause if:
You have familial history of early menopause
You have undergone chemotherapy or radiation treatment
You have familial history of autoimmune disorders (e.g. hypothyroidism)
How Can I Talk to My Partner about Early Menopause?
Here are some tips to talk to your partner about early menopause.
Teach him
If your partner doesn't know what you're going through, he can't begin to understand how your mood and well-being are affected. Direct him to websites and books on early menopause, and tell him about your own feelings on the subject, so he can truly understand how this condition affects your physical and emotional states.
Tell him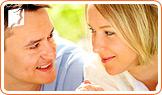 Be upfront. Explain why extra towels or sheets are needed when you're having night sweats, and let him know that he is not to blame for your occasional mood swings. Your partner wants to do the right thing and ease your discomfort, but he can't help you if you don't tell him. You'll both be happier in the end if you are honest with him from the beginning, and he'll appreciate your openness.
Reassure him
It's important to reassure him because as in any relationship, there is a time when one partner is more vulnerable than the other. If you're going through early menopause, you may be acting differently than you otherwise would have. Your partner's emotional and physical needs shouldn't be forgotten. Reassure him so that he doesn't feel neglected, and make sure that you're both spending time together, to keep your romantic connection strong.
Sources
BMJ Group. "Menopause: What is it?" Patient Leaflet. 2007.
Hopkins, Virginia. Lee, John R. M.D. What Your Doctor May Not Tell You About Menopause. New York: Warner Books Inc., 1996.
Love, Susan M.D. Menopause and Hormone Book. New York: Three Rivers Press, 2003.
Martin, Raquel. The Estrogen Alternative. Rochester, VT: Healing Arts Press, 2000.