During menopause, women may suffer from many symptoms, including stress that can lead to depression. At its worst, depression can be a debilitating disease. Getting out of bed, going to work, managing to smile, and even eating can feel impossible.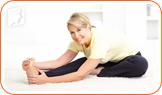 Using exercise to ease menopause symptoms is widely recommended, and although during depression it can be difficult to find motivation, there are ways to overcome these feelings. Looking for enjoyable activities and making exercise simple and social will help.
Social Interaction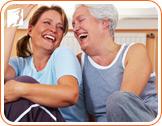 Sometimes, depression can make people feel isolated. Interacting with new people at the gym or working out with a friend will give you energy and remind you that there are people you can talk to. A spin class provides an excellent opportunity to chat with your neighboring cyclist, make new friends, and talk to your instructor about fitness goals.
Gets You Out of The House
Sitting inside all day is one of the worst things you can do if you are suffering from depression. Negative feelings may seem like insurmountable obstacles, but even a little bit of fresh air, a stroll around the block, or a touch of sunshine can quickly improve your mood. Hard as it may be, it's essential to stay active and avoid shutting yourself in when you're depressed.
Improves Fitness and Energy
Exercise is proven to boost energy levels throughout the day. Taking a spin class will help you get fit, improve your energy, and balance the hormones that are fluctuating during menopause.
Clears Your Mind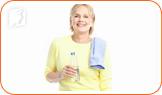 Some menopause symptoms are linked with depression, such as anxiety and sleep disorders. These problems tend to lead to an overactive and preoccupied mind, which can be distressing. Spin class can provide time to clear your head, and the positive effects of rigorous exercise on stress levels are well known.
Helps Sleep
Exercise can rejuvenate you and lift your mood for as long as 12 hours after a workout. A happier you means an easier time relaxing during the day and better, deeper sleep at night. Regular sleep is essential for maintaining physical and emotional health.
More Information about Depression
While joining a spin class is a good way to help fight your depression, it's important not to be too hard on yourself. If cycling isn't your thing, there are tons of other options, like swimming, aerobics, and yoga classes, as well as management methods outside of exercise. The most important thing to remember is that even when it feels impossible to drag yourself to the gym, it's essential to your well-being, and you'll feel the benefits immediately.
Sources
Craft, L.C. & Perna, F.M. (2004). The Benefits of Exercise for the Clinically Depressed. The Primary Care Companion to the Journal of Clinical Psychiatry, 6(3), 104-111. Retrieved from http://www.ncbi.nlm.nih.gov/pmc/articles/PMC474733/
Office on Women's Health. (2010). Menopause and mental health. Retrieved January 8, 2016, from http://womenshealth.gov/menopause/menopause-mental-health/