Approximately 70% of women approaching menopause will suffer from menopause symptoms. There is a wide range of symptoms - thirty-four in fact - that can affect women during this transition.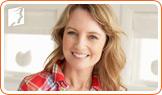 While managing the menopause symptoms can difficult for any woman, it's not impossible. It is important for women to understand how best to deal with their symptoms, so that they can limit the impact of menopause on their daily routine. Each woman's experience menopause different, so symptom management should be handled on an individual basis, based on the types and severity of symptoms.
Continue reading to learn more about the thirty-four menopause symptoms.
What Are the 34 Menopause Symptoms?
Of the thirty-four menopause symptoms, the most common of these are hot flashes, night sweats, irregular periods, loss of libido, vaginal dryness, and mood swings.Keep reading to find out more about managing the thirty-four menopause symptoms effectively.
Hot flashes
Night sweats
Irregular periods
Loss of libido
Vaginal dryness
Mood swings
Fatigue
Hair loss
Sleep disorders
Difficulty concentrating
Memory lapses
Dizziness
Weight gain
Incontinence
Bloating
Allergies
Brittle nails
Body odor
Irregular heartbeat
Depression
Anxiety
Irritability
Panic Disorder
Breast pain
Headaches
Joint pain
Burning tongue
Electric shocks
Digestive problems
Gum problems
Muscle tension
Itchy skin
Tingling extremities
Osteoporosis
Managing Menopause Symptoms Successfully
Managing the thirty-four menopause symptoms is not as daunting as it seems. Women can take control of their symptoms by implementing the following steps:
A healthy body is the first component in managing menopause symptoms. Many of the vitamins found in healthy foods can be used. These include:
Vitamin C. Vitamin C is found in broccoli, cabbage, asparagus, and tomatoes.
Vitamin E. This vitamin can be found in asparagus, almonds, lamb, brown rice, and mangoes.
Vitamin B. B-group vitamins can be found in wheat germ or can be taken in the form of supplements.
Fatty acids. These nutrients include Omega 3 and Omega 6.
It's also recommended that women eat a balanced diet by increasing their soy protein intake and eating more fresh fruit and vegetables. Managing menopause symptoms is also easier if women limit their consumption of foods that are high in caffeine and sugar.
Alternative treatments for menopause symptoms are becoming more popular as they carry little to no risk and can be extremely effective treatments for menopause. Herbal remedies are the leading type of alternative treatment and are a practical option to treat the hormonal imbalance that occurs during menopause directly at its source.
Sources
BMJ Group. "Menopause: What is it?" Patient Leaflet. 2007.
Hopkins, Virginia. Lee, John R. M.D. What Your Doctor May Not Tell You About Menopause. New York: Warner Books Inc., 1996.
Love, Susan M.D. Menopause and Hormone Book. New York: Three Rivers Press, 2003.
Martin, Raquel. The Estrogen Alternative. Rochester, VT: Healing Arts Press, 2000.