Menopause is a natural process during which menstruation ends and is unfortunately, often accompanied by range of unpleasant symptoms. Menopause is mainly caused by a drop in estrogen levels and its various symptoms can often be treated naturally. There are many types of natural remedies for menopause, available in different forms.
Types of Natural Treatments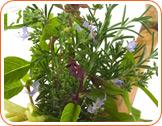 Herbs are a natural menopause remedy and a popular way to treat bothersome symptoms like hot flashes and night sweats. More and more women are turning to herbal medicine, as they are safer and produce fewer side effects than hormone replacement therapy (HRT).
As a natural remedy for menopause, herbs supplements are split into two distinct groups: phytoestrogenic and hormone-regulating herbal supplements. Natural treatments remedies range from over-the-counter therapies and herbal medicines to complementary therapies such as homeopathy and aromatherapy.
Phytoestrogenic Supplements
Phytoestrogenic supplements posses a chemical structure often referred to as plant-based estrogen. They relieve symptoms by simulating human estrogen and are useful for fixing hormone-related problems. Well-known phytoestrogenic herbs include: black cohosh, ginseng, soy, red clover, and dong quai. Many of these herbs are available as herbal supplements.
The problem with using phytoestrogenic supplements as a menopause treatment is that they can have negative side effects; notably that the introduction of plant-based estrogen may hinder the body's ability to produce hormones naturally. As such, they are not recommended for long term use.
Hormone-regulating Herbal Supplements
Hormone-regulating herbal supplements can be an effective natural treatment for menopause symptoms. These types of herbs do not contain any estrogen, and instead work in harmony with the body, stimulating its own natural production of hormones.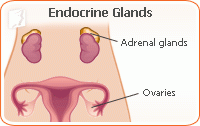 These supplements nourish the pituitary and endocrine glands, causing them to produce natural hormones more efficiently which results in balancing levels of estrogen and other important hormones. Herbal treatments are often combined with other healing techniques, such as acupuncture, biofeedback, massage, and homeopathy.
Herbs can help hormonal imbalance, and are most successful when combined with healthier lifestyle choices. Click on the following link for more alternative treatment options for menopause.
Sources
BMJ Group. "Menopause: What is it?" Patient Leaflet. 2007.
Hopkins, Virginia. Lee, John R. M.D. What Your Doctor May Not Tell You About Menopause. New York: Warner Books Inc., 1996.
Love, Susan M.D. Menopause and Hormone Book. New York: Three Rivers Press, 2003.
Martin, Raquel. The Estrogen Alternative. Rochester, VT: Healing Arts Press, 2000.