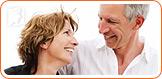 If you've begun experiencing the symptoms of menopause, talking with your partner may seem difficult, embarrassing, or unsexy. These are normal anxieties, but they shouldn't get in the way of open communication. Read on for some advice to help you talk with your partner about your menopausal experience.
Don't Be Embarrassed about Menopause
These days, everyone is talking about menopause, so don't suffer from your symptoms in silence. Menopause is a natural life transition for women, and you shouldn't feel afraid to talk about it. You can approach the subject with your partner by following these tips:
Identify Your Anxiety
Are you worried that he could never understand how you feel? Whatever your anxiety is, you should identify it at the beginning of the conversation, in a non-accusatory way. You and your partner will then be able to discuss why the subject is difficult, and how you can both feel more comfortable. You may be surprised by his response.
Tell Him How He Can Help
The subject of menopause may feel awkward for your partner because he doesn't know what he can do to help. Telling him about environmental triggers of menopausal symptoms - caffeine, dehydration, warm rooms, and spicy foods, etc. - will give him a better understanding of things he can do to support you.
Seek Information about Treatment Options

Though you should choose the treatment that feels right to you, your partner may be able to help you weigh the pros and cons of various menopausal treatments. Remember that your physical or emotional discomfort affects him too.
Reward Yourself
Talking about menopause can be stressful for both you and your partner, so a little reward may be in order. Treat yourselves to a date night full of your favorite things. Making sure you take time to do fun and romantic things together will help you maintain intimacy and emotional support during this time.
Recommendation
Before you talk with your partner, it's helpful to be able to clearly identify the symptoms you're experiencing and their causes. Follow the links below to read more information about how to deal with menopausal symptoms.
Sources
BMJ Group. "Menopause: What is it?" Patient Leaflet. 2007.
Hopkins, Virginia. Lee, John R. M.D. What Your Doctor May Not Tell You About Menopause. New York: Warner Books Inc., 1996.
Love, Susan M.D. Menopause and Hormone Book. New York: Three Rivers Press, 2003.
Martin, Raquel. The Estrogen Alternative. Rochester, VT: Healing Arts Press, 2000.