Due to the onset of unpleasant menopause symptoms, many women search for the best methods for treating their symptoms. Luckily, there are many treatment options available.
Before getting treatment, however, a woman should consult a medical professional to discuss the right treatment for her symptoms.
What Are the Symptoms?
Hormonal fluctuations affect each woman differently during menopause. There are approximately 34 recognized symptoms of menopause, though by no means does a woman usually experience all of them. The thirty-four menopause symptoms are:
1. Hot flashes
2. Night sweats
3. Irregular periods
4. Loss of libido
5. Vaginal dryness
6. Mood swings
7. Fatigue
8. Hair loss
9. Sleep disorders
10. Difficulty concentrating
11. Memory lapses
12. Dizziness
13. Weight gain
14. Incontinence
15. Bloating
16. Allergies
17. Brittle nails
18. Changes in odor
19. Irregular heartbeat
20. Depression
21. Anxiety
22. Irritability
23. Panic disorder
24. Breast pain
25. Headaches
26. Joint pain
27. Burning tongue
28. Electric shocks
29. Digestive problems
30. Gum problems
31. Muscle tension
32. Itchy skin
33. Tingling extremities
34. Osteoporosis
Which Are the Most Common?
Because every woman is different, the symptoms women experience will vary. However, some of the symptoms of menopause are more common than others. It is also worth noting that a woman may experience different symptoms depending on which stage of menopause she is in. The most common symptoms are:
Hot flashes
Night sweats
Irregular periods
Loss of libido
Vaginal dryness
Mood swings
Does Everyone Experience the Same Symptoms?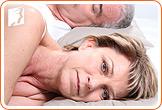 As mentioned before, not everyone will experience the same symptoms, but some are more common than others. It is worth noting that some symptoms can compound on one another, causing a domino effect. For instance, if a woman suffers from night sweats, she is more likely to experience difficulty sleeping and suffer from sleep disorders, such as insomnia or fatigue.
More Information
Menopause is unavoidable, but the symptoms do not have to disrupt daily life. Talk to your doctor about possible treatment options. Keep in mind that it is best to start with the least invasive options first. Click on the articles below to read more about the symptoms of menopause or another related topic.
Sources
BMJ Group. "Menopause: What is it?" Patient Leaflet. 2007.
Hopkins, Virginia. Lee, John R. M.D. What Your Doctor May Not Tell You About Menopause. New York: Warner Books Inc., 1996.
Love, Susan M.D. Menopause and Hormone Book. New York: Three Rivers Press, 2003.
Martin, Raquel. The Estrogen Alternative. Rochester, VT: Healing Arts Press, 2000.