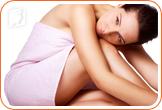 Vaginal dryness can be a particularly uncomfortable symptom of menopause. It not only affects your experience of love-making, but can be very irritating on a day-to-day basis. It's important to treat yourself with a little extra tender loving care to keep comfortable throughout the day. Read the following article to learn which fabrics and clothes are better for preventing vaginal dryness.
Do Not Wear Jeans
Denim is a particularly coarse fabric, and can aggravate vaginal dryness. If you're not ready to terminate your life-long relationship with denim, put your jeans to the back of the closet for now, and treat yourself to a cute denim dress or shirt instead.
Do Not Use Synthetic Bedding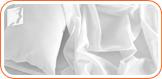 Use natural, cotton sheets that allow your skin to breathe.Choose natural, cotton sheets that allow your skin, and your vagina, to breathe. Not only will you feel more comfortable in the problem area, but giving your body a good night's sleep will help reduce any dryness caused by stress and insomnia.
Do Not Use Regular Fabric Softener on Your Bed Sheets
It has been suggested that the ingredients in fabric softener which give it its scent may irritate the skin. Replace it with a non-scented or organic fabric softener, or dry your sheets outside on the line for a vagina-friendly fresh feeling.
Do Wear Sexy Underwear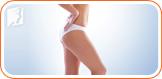 Wearing flattering underwear can be a good way to boost your self-esteem and feel good.Wearing flattering underwear can be a good way to boost your self-esteem and feel good at a time when you might be feeling uncomfortable and lacking in confidence. Avoid lace, which will irritate the skin and instead try cotton underwear in your favorite style and color.
Do Opt for Trousers in the Office
Replace a tight skirt and pantyhose with loose fitting black trousers. Tight-fitting garments around your personal area will irritate the symptoms of dryness further. A pair of smart, loose trousers will enable you to feel comfortable, professional, and confident throughout the working day.
Do Change When You Get Home From Work
Treat your vagina how you would treat the rest of your body, and change into something more comfortable after a day at the office. Changing your underwear for the evening will make you feel fresh and more comfortable.Finally, do feel comfortable talking about and treating your vaginal dryness. It is a common symptom of menopause, and can be uncomfortable to live with daily. Do talk about it, and do take the time to deal with it.
Sources
Mayo Clinic Health Resource.(n.d)."Vaginal Dryness". 2007
The Changing Body: Menopause Handbook.(n.d)."Vulvovaginal Symptoms". Retrieved from www.menopause.org
Love, Susan M.D. Menopause and Hormone Book. New York: Three Rivers Press, 2003.