Review on January 07, 2010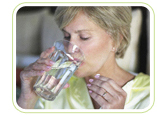 During menopause women find their hormones waver dramatically as they come to end of their reproductive lives. Low estrogen levels as a result of menopause are known to cause low bone density and sometimes osteoporosis in women post menopause. In order to try and reduce the risk of osteoporosis, post menopause, researchers have suggested that an increase in calcium on a population based level could help to stem the development of osteoporosis in later life.
In a five-year placebo-controlled study, the effect of long-term increased calcium consumption was assessed in relation to the likelihood of women developing osteoporosis, post menopause. AA group of 1460 women were selected from the population, all of which were over 70 and in post menopause. These women were randomly selected to receive either calcium carbonate, 600 mg twice per day, or identical placebo. Over the five year follow up of this trail, osteoporotic fractures, vertebral deformity, and adverse events were recorded. Bone structure was measured using x-ray's of the hip and whole body, quantitative ultrasonography of the heel and analysis of the distal radius.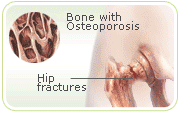 The results of this trail showed that 16.1% of the women who took part suffered some time of fracture during the follow up. 830 patients were took at least 80% of their assigned supplements of calcium showed a reduced risk of osteoporosis related fractures. One side effect of this trail was increase incidents of constipation suffered by the women involved. After fracture, many of the women were given calcium supplements as a treatment to help heal their fractures. Researchers reported no decreased risk of further bone fractures due to this treatment.
This trail shows the improvements in fracture risk in women, post menopause, who regularly take calcium supplements. Although introduction of calcium supplements had little effect after a first fracture the reduction of cases of osteoporosis, post menopause, could be seen if calcium supplements were given to women as they reached the end of menopause. Women should consult their doctors in order to find the best calcium supplements to decrease the likelihood of osteoporosis developing and may even find that taking calcium supplements before menopause may give them greater bone strength as they age.