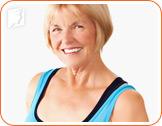 Just because you've been diagnosed with osteoporosis doesn't mean you have to throw in the towel and quit exercising. In fact, beginning or continuing an exercise regimen with osteoporosis will only benefit your body. Doctors recommend that people with osteoporosis do weight-bearing exercises in addition to at least 30-minutes of physical activity every day. Read on to find out how you can exercise with menopausal osteoporosis without putting your bones at risk.
Take Care of Your Body
Before beginning any exercise routine, it's best to seek advice from a doctor and a personal trainer in order to prevent injury. Once you have the green light to work out, though, here are different types of exercises to incorporate into your fitness routine:
Stability exercises

Exercises like Tai Chi promote muscle and skeletal strength, as well as balance. This will help prevent you from falling or breaking a bone if you do fall. If you're not into martial arts, you could try something as simple as standing on one leg to improve your stability.
Flexibility exercises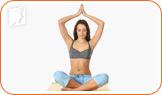 Exercises like yoga can help improve your posture and balance. Since there are so many typess of yoga — from Anusara to Restorative — you'll rarely get bored with this exercise. If you don't have time for a full yoga routine, gentle stretching exercises can also be effective. Just make sure not to bend from the hips or put too much stress on your spine.
Low-impact aerobic exercises

Exercises like brisk walking or dancing are effective because they keep you on your feet the entire time. These workouts are optimal for strengthening the hip, leg, and spine bones. Ease into these exercises to prevent injury.
Strength training exercises

Exercises like lifting weights and using resistance bands help prevent a stooped posture because they gently stretch the upper back and reinforce the shoulder muscles. If your osteoporosis is advanced, exercise in the swimming pool at your gym to reduce impact on your joints.
Recreational exercises

Exercises like hiking and trekking are a fun way to enjoy nature. Remember to be extra careful when exercising outdoors. Bring a friend along so that you can keep an eye on each other and enjoy your workout even more.
Living with Osteoporosis
Osteoporosis is one of the many symptoms menopausal women face. Bone fractures due to osteoporosis will affect approximately 33% of women over the age of 50. A diet rich in calcium and vital nutrients and careful exercise are effective ways to treat this disease. Click on the link below to find out more about how you can treat osteoporosis with exercise.
Sources
American Physical Therapy Association.(n.d)."What You Need to Know about Osteoporosis." Retrieved from www.apta.org.
Cleveland Clinic.(n.d)."Menopause and Osteoporosis." Retrieved from http://my.clevelandclinic.org.
National Osteoporosis Foundation.(n.d)."Prevention: Who's at Risk."Retrieved from www.nof.org.
New York State Department of Health.(n.d)."Calcium and Healthy Bones." Retrieved from www.health.state.ny.us.