Review on November 07, 2008
For the millions of women who suffer nightly from the sleep-disrupting menopausal phenomenon of night sweats, natural remedies such as black cohosh have been in high demand. Typical symptoms of night sweats include soaked bedding or nightclothes, waking up in the middle of the night, often several times, uncomfortable feelings of heat, and an increase in heart rate.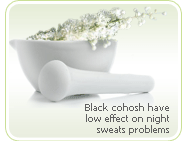 It's no wonder that women have been seeking alternative options to treat this symptom, particularly as the more frequently used Hormone Replacement Therapy has been linked to cancer and other health issues. However, recent studies indicate that these herbs, particularly black cohosh, may not have any medically significant impact on the incidence of night sweats.
In a study undertaken in 2006 and published in the Annals of Internal Medicine, 351 women aged 45 to 55 years who had at least 2 episodes of hot flashes or night sweats per day were divided into groups to receive a variety of different menopausal treatments. About one half of the women were in the process of menopause, and one half had completely stopped experiencing menstrual periods. All however were having night sweats.
These women were assigned at random one of the following treatments: black cohosh, hormone replacement therapy, or a placebo pill. The placebo and HRT groups were included as already proven effective or ineffective treatments, in comparison to the unknown effects of black cohosh on night sweats. The women kept a record of their symptoms, including both the frequency and severity of the symptoms up to 12 months after beginning treatment. The women, as expected, who took HRT reported a decrease in the incidence and severity of night sweats. Those taking black cohosh or the placebo, however, showed no difference in their symptoms.
This study and others undertaken before and after that have tested the efficacy of black cohosh in the fight against night sweats have shown that this particular herb does not seem to be a good alternative to hormone replacement therapy, or to other alternative treatments that women may turn to for relief.

Sources
Ehrlich, Grothaus, Newton, Reed. "Treatment of Vasomotor Symptoms of Menopause with Black Cohosh, Multibotanicals, Soy, Hormone Therapy, or Placebo. A Randomized Trial." Annals of Internal Medicine (volume 145, pages 869-879), Dec. 2006.