Review on March 30, 2009
During menopause a large percentage of women find themselves suffering from some form of joint pain and in severe cases they may develop osteoporosis as a result. Such uncomfortable and sometimes debilitating joint pain has until recently been treated by a range of chemical drugs prescribed by doctors, which leave many women crying out for a more natural solution to the problem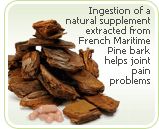 A study conducted at Comenius University in Bratislava, Slovakia, during 2008 has recently been published and has found links between the treatment of joint pain and the regular ingestion of a natural supplement extracted from French Maritime Pine bark.
This product was studied in a controlled test by 100 patients suffering from joint pain. Half of this group took pine bark extract whilst the other half took a placebo; an amount of 150 mg was taken each day for three months. Every two weeks subjects were asked to fill in a questionnaire surrounding their symptoms of joint pain and the level of joint pain they were suffering from at the time.
Researchers found that after this three month period the patients taking the pine bark supplements found an improvement in their joint pain, while the people taking the placebo found no change in their symptoms of joint pain.
As women often suffer from a range of other menopause symptoms, as well as joint pain, they may often find themselves taking a whole host of medicines and different treatments during this period. It's reassuring to find that natural supplements are available and can also help, certainly natural pine bark extract may well be the answer to some joint problems if this research is anything to go by.

Sources
'Effect of pine bark extract (Pycnogenol®) on symptoms of knee osteoarthritis' Peter Cisár 1, Richard Jány 1, Phytotherapy Research Volume 22 Issue 8, Pages 1087 - 1092