If you are experiencing irregular periods, it can be difficult to wear certain outfits, for fear of getting your period. You don't know when a menopausal irregular period may happen. You might have one when you are out playing sports, when you are at the coffee shop, and you might even get one at work. Basically, you have to be prepared anywhere. Here are a few tips that will help you stay fashionable while being prepared for that time of the month.
Wear Dark Clothing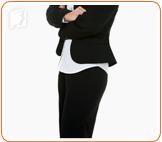 Wearing dark clothing, you are less likely to experience an embarrassing situation. If you find yourself experiencing irregular periods, make sure to always step out of the house wearing dark bottoms. Whether it is a skirt, pants, shorts, or jeans, always opt for the darkest shade. It's important to avoid light clothing because it will show stains, which can be embarrassing and upsetting. During the summer, opt for dark skirts or shorts instead of pants so you don't get hot.
Bring an Extra Pair of Panties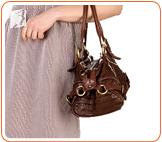 As well as being careful about what you wear, you should also consider how you accessorize your outfit. When you're experiencing irregular periods, it is important to carry back-up supplies that will help you deal with any unforeseen periods. These means keeping extra pads, tampons, and an extra pair of panties in your bag. If you find yourself in the midst of a period that you weren't prepared for, you can toss your destroyed underwear in the trash and replace them with a fresh, clean pair. Save yourself the time and frustration and always keep some extra panties with you. You'll be grateful you have them when the time comes.
Wear Loose-Fitting Clothing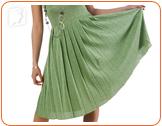 Whether or not your period is irregular, many women tend to experience bloating before their period starts. It can be more comfortable to wear looser fitting clothing that enables you to move without being restricted. It will help you relax and reduce your stress levels. This is important because stress can affect your menstrual cycle. Also, loose clothing can be beneficial if you experience hot flashes during menopause. Dressing for irregular periods can be the key to helping you feel comfortable and prepared for when your period starts.
For more information about causes and treatments for irregular periods, follow the links below.
Sources
BMJ Group. "Menopause: What is it?" Patient Leaflet. 2007
Hutchinson, Susan M.D. "The Stages of a Woman's Life: Menstruation, Pregnancy, Nursing, Perimenopause, Menopause". November 2007.
Love, Susan M.D. Menopause and Hormone Book. New York: Three Rivers Press, 2003.