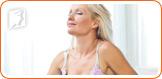 While many women find relief from hot flashes through simple lifestyle changes, for others, these changes are not enough to curb their hot flashes. For women who need additional help managing their symptoms, there are alternative methods worth exploring.
Alternative Medicine
Whether used alone or in conjunction with lifestyle changes, alternative medicine can be a particularly effective treatment for hot flashes. Some of these alternative approaches include:
Acupuncture
Acupuncture - the systematic insertion of thin needles into key spots on the body - has been used in Eastern medicine for the past 2000 years. The procedure is intended to reduce or eliminate pain and other common ailments, including gynecological changes like menopause. Although somewhat mysterious in the eyes of Western medicine, acupuncture has been shown to lessen the frequency and severity of hot flashes and other menopause symptoms, which is why it is a popular treatment option for hot flashes.
Massage
Massage - the skilled kneading of muscles to release tension - has also been shown to be one of the viable treatments for hot flashes.
Herbal supplements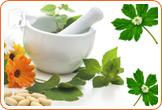 These are probably the most prominent of the alternative approaches to menopause and the most ancient. Herbal remedies as one of the treatments for hot flashes and other menopause symptoms, they have probably been used for the past 5000 years. Two different types of herbal supplements - phytoestrogenic and hormone - regulating supplements - are the leaders in treating hot flashes because they are safe and effective.
Prescription Medications
When it comes to treatments for hot flushes, most women in the United States choose to walk down the path of prescription medications.
Hormone replacement therapy
Prescription medications for treating menopause are usually found in the form of hormone replacement therapy (HRT), a treatment that involves the ingestion of synthetic hormones to help balance a woman's fluctuating natural hormone levels. This is considered the most costly and potentially the most dangerous treatment option. In 2002, a study by The National Institute of Health (NIH) confirmed that HRT can lead to an increased risk of heart disease and cancer.
Women should research these and any other treatments for hot flashes with their doctors to find what combination of treatments would work best for them. Women who are interested in learning more about alternative treatments for hot flashes do not need to look further just click on the following link about treatments for hot flashes.
Sources
Boston Women's Health Collective. "Hot Flashes, Night Sweats, and Sleep Disturbances." Our Bodies, Ourselves, 2006.
The National Institute of Health. (n.d)."Signs of the Menopausal Transition." Retrieved from www.nih.gov
Von Muhlen, DG, et al. "A community-based study of menopause symptoms and estrogen replacement in older women." Maturitas. Sept 1995; 22(2): 71-8.