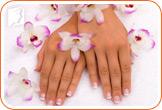 Everyone knows that a manicure is an excellent way to protect your cuticles and promote healthy nails, not to mention a great way to relax. However, this beauty ritual becomes even more important during menopause. Fluctuating levels of estrogen can cause dehydration, which significantly impacts the body, including the finger nails.
How Can I Make My Manicure Last?
If you're a woman who fights brittle nails by indulging in regular manicures, use these five tips to preserve them even better.
No Biting!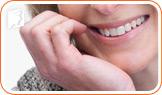 Old habits die hard. If you're a nail biter, you are doing more damage to your already brittle nails, whether they are manicured or not. Try replacing your nervous habit with a more productive one. Every time you feel the urge to bite your nails, try chewing gum instead or lightly snapping a rubber band on your wrist to remind yourself.
Use a Top Coat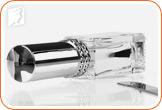 Whether you go to the nail salon or do your manicures at home, always seal your paint with a top coat of clear nail polish. Throughout the next week, you can even do 'spot checks' and apply a little more in places that are chipping. Be careful with extra nail polish, though. Applying it too heavily can actually cause your nails to chip even more quickly.
Pick Natural Colors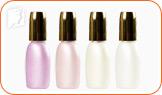 Fire engine red during the summer and deep plum during the winter may keep you looking fashionable and up-to-date, but when these color start to chip, it's more noticeable. Go for something timeless and classic, like a nude or pale pink polish. These colors make it less obvious when it's time for a touch-up.
Use Rubber Gloves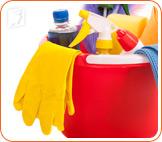 When you're cleaning the house or washing the dishes, use rubber gloves to protect your manicure. Avoiding the stress that water and cleaning products can inflict on your shiny nails will help keep them stronger and preserve the paint longer.
Patience is a Virtue
Always wait at least an hour after your manicure to do any heavy-duty activities. You can try using a spray to make them dry quicker, but this can sometimes lead to oxygen bubbles beneath the surface of your polish.
More about Brittle Nails and Manicures
If you choose to have your nails done professionally, make sure you go to a reputable establishment that uses fresh tools for each client. Picking your regular salon with caution will keep you from picking up dirty nail fungi from unprofessional nail technicians that don't change or sterilize their tools.
Click here to read more about treatments for brittle nails.
Sources
BMJ Group. "Menopause: What is it?" Patient Leaflet. 2007.
Hutchinson, Susan M.D. "The Stages of a Woman's Life: Menstruation, Pregnancy, Nursing, Perimenopause, Menopause". November 2007.
Love, Susan M.D. Menopause and Hormone Book. New York: Three Rivers Press, 2003.