When you're trying to manage your menopause symptoms, it can be difficult to know which treatment options will work best for you. There are so many out there, and it may be tempting to think that the more expensive the treatment, the more effective it will be. But did you know that you may actually be able to stave off the worst of your menopause symptoms by incorporating simple lifestyle changes, like increasing the amount of exercise you do? It could improve your health and, more importantly, save money. Read on to learn the key exercises for beating menopause symptoms.
Walking the Dog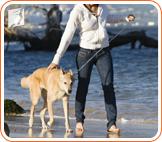 New exercise regimes can seem daunting and, if you don't enjoy them, they can be grueling. So when you're trying to beat menopause with exercise, it's important to do something you enjoy. One great way to beat menopause with exercise is to walk your dog. Since your dog enjoys these walks, you're more motivated to get up and move longer and more frequently, making it a superb way to get exercise. You can even combine it with a game of fetch, just to make it a bit more strenuous.
Swimming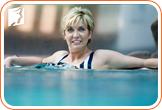 If you're going through menopause, odds are you are also experiencing other aspects of aging, such as joint pain and decreasing bone density, which makes many forms of exercise more difficult. This is why swimming is such a great alternative. Because swimming takes place in the water, it is low impact on your body, so you are able to exercise harder.
Yoga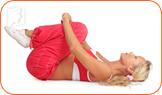 During menopause you can experience lots of symptoms that affect the joints and muscles. Many menopause symptoms are also caused by high stress levels. If you want to combat all of these symptoms, yoga may be just what you've been looking for. Yoga can help you to stretch every muscle in your body, while also relaxing your mind.
Click on the following link to learn about specific causes of menopause symptoms.
Sources
BMJ Group. "Menopause: What is it?" Patient Leaflet. 2007.
Hopkins, Virginia. Lee, John R. M.D. What Your Doctor May Not Tell You About Menopause. New York: Warner Books Inc., 1996.
Love, Susan M.D. Menopause and Hormone Book. New York: Three Rivers Press, 2003.
Martin, Raquel. The Estrogen Alternative. Rochester, VT: Healing Arts Press, 2000.