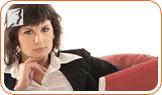 Menopause can be a difficult time for many women, and it may feel as thought you have little control over some of the side effects. You may experience a number of unpleasant or disruptive symptoms as a result of hormonal fluctuations during this time. Luckily, there are ways you can reduce and relieve menopausal symptoms. Read on to learn how to manage vaginal dryness while at work.
Carry Lubrication
Vaginal dryness occurs when estrogen levels in your body drop. This decreases fluid levels in your body, which results in a loss of moisture in the vaginal wall. To combat this, you need to replenish these depleted moisture levels. One way to do this is to carry a vaginal lubricant that you can apply whenever you're feeling uncomfortable. Any lubricant you do choose to use should be water based, colorless, and odorless.
Stay Hydrated
If you experience vaginal dryness at work it can be very uncomfortable, both physically and mentally. You want to do something to relieve the irritation, but you don't want to draw your colleague's attention to the fact that you're suffering from vaginal dryness. A great way to solve this problem is to take preventative measures. Make sure you drink plenty of water and eat lots of fresh fruit. A balanced diet is vital for keeping your fluid levels up and alleviating vaginal dryness.
Take Time Off Work if You Are in Pain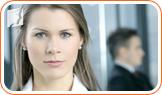 If you're finding your vaginal dryness is too uncomfortable and painful to manage at work, approach your boss. Be honest and open with your boss and explain your problem. Menopause affects all women and these symptoms are very common. He or she should be sympathetic to your plight and offer you the time off from work you need.
Wear Suitable Clothing
When you're suffering from vaginal dryness there are certain lifestyle changes you can make to lessen your discomfort. One of these is considering the clothing you wear. Try not to wear too many layers on your legs as the heat and lack of air may adversely affect this symptom. You may want to stop wearing tight clothing, as chaffing from close fitting underwear or pants may be exacerbating your vaginal dryness.
Follow the links below for more information about vaginal dryness and treatments.
Sources
Love, Susan M.D. Menopause and Hormone Book. New York: Three Rivers Press, 2003.
"Vaginal Dryness".(n.d). Mayo Clinic Health Resource. 2007
The Changing Body: Menopause Handbook.(n.d)."Vulvovaginal Symptoms". Retrieved from www.menopause.org