During menopause, your body chemistry is changing as your hormone levels fluctuate, and this can cause symptoms like irregular periods, hot flashes, mood swings and joint pain. All of these are normal side effects of menopause, and though they may be uncomfortable, many other women also suffer from these frustrating symptoms. The predominant reason women suffer from joint pain during menopause is reduced levels of estrogen in the body.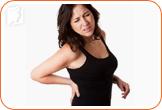 Estrogen is known to have anti-inflammatory effects in the body, so reduced estrogen levels means a reduced ability to absorb pain. This inflammation and discomfort can be annoying and disruptive, but there are some quick and easy habits you can employ in your everyday life to help you fight joint pain.
Exercise
Exercising will help strengthen your muscles and bones. You do not need to participate in vigorous activity, but taking a walk after dinner three or four times a week will keep your joints feeling loose and flexible. Not only will your joints benefit from this, but your metabolism will also. On top of that, if you lose a little bit of weight it will help lessen the strain on your joints.
Swimming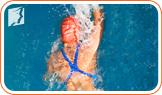 Swimming is a form of exercise that will also strengthen your muscles and bones, but without the added strain of running or walking. Check out your local YMCA and sign up for a water aerobics class or an adult swimming class. It will help you feel refreshed while simultaneously fighting your joint pains.
Calcium
Be sure to incorporate calcium in your diet as much as you can. If you are not a big fan of milk, try to buy juices enriched with calcium. Keeping your bones healthy is the key to keeping your joints pain-free.
Physical Therapy
If you still find yourself suffering from joint pain, you should consider seeing a physical therapist. A physical therapist will help you do specific stretches and exercises that are known to reduce joint pain.
Painkillers
You do not want to become dependent on painkillers, but if you discuss a medication regiment with your doctor, you will be able to battle joint pain safely.
For more information about joint pain and how to treat it, follow the links below.
Sources
BMJ Group. Menopause: What is it?" Patient Leaflet. 2007
Hutchinson, Susan M.D. "The Stages of a Woman's Life: Menstruation, Pregnancy, Nursing, Perimenopause, Menopause." November 2007.
Love, Susan M.D. Menopause and Hormone Book. New York: Three Rivers Press, 2003.