As embarrassing as it is uncomfortable, bladder incontinence comes with both mental and physical obstacles to overcome. And though addressing the subject can cause anxiety, seeking support is crucial. Talking to your partner can not only alleviate stress, but provide you with much-needed emotional support as you work to manage your symptoms. How should you get started? Read on for advice on what to consider as you decide to share.
Find the Right Time to Start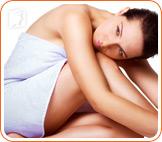 While it's tempting to circumvent the conversation as long as possible, it's better to start the conversation yourself than to wait for your partner to say something, saving both of you from a potentially embarrassing situation.
When bladder incontinence starts to affect your sex life, interrupt dates, or even make you cancel plans for fear of an accident, it's time to start a dialogue about the problem.
Stay Calm
Because bladder incontinence is so personal, many find themselves getting defensive about the issue. Remember that this person loves and supports you in other areas of life, and there is no reason to prejudge their reaction, as the conversation will probably go better than you think. It is a good idea to find a quiet, comfortable environment that's free of distractions so that you two can really focus on what's being discussed.
Explain the Condition and Its Causes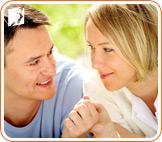 Though men can also experience bladder incontinence, the most common cause for the condition among women is hormonal imbalance during menopause. It is important to keep in mind that, although your partner will most likely be supportive, he may have no idea about what you're going through and he may not possess the knowledge you do about the female reproductive system. Explain your symptoms and why they're happening as thoroughly as you can to demystify the process.
Keep an Open Dialogue
Major life changes affect both people in a relationship, even if only one person directly feels their effects. Encourage your partner to ask any questions that come to mind so that you can work together to deal with bladder incontinence and everything it entails. If changes to diet and exercise help you manage the problem, you might be looking at your new jogging companion - but you'll never know without honest communication.
No one should have to deal with a serious health concern on their own. By talking to your partner about bladder incontinence, you'll gain a confidant as well as the peace of mind that comes from their supportive reaction. If you're experiencing troubling symptoms, come up with a plan to start the conversation soon. You'll always be glad that you did.
For further information on other ways to manage bladder incontinence follow the link below.
Sources
Sullivan, Dr. Nancy H.(n.d). "Menopause and Incontinence." Providence Health and Services. www.providence.org
Mayo Clinic.(n.d)."Urinary Incontinence." Retrieved from www.mayoclinic.com