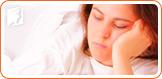 Night sweats and fatigue are common menopausal symptoms that often come as a package deal. These symptoms are very common during perimenopause, but can also last throughout menopause. Dealing with night sweats and fatigue can be difficult, but there are some tips that you can follow to manage these problems.
Eat Properly
One of the biggest reasons people suffer from the signs and symptoms of menopause is their diet. It is recommended that you stick to some golden rules. Eat breakfast, eat healthy snacks every three to four hours, increase your fiber intake, add omega-3 into your diet, and stay hydrated.
Relax
In today's world, there is always work that needs to be done. Tension is a common component of everybody's life and without proper relaxation, good sleep is almost impossible. Try some yoga. Some quality "me time" and a bit of winding down before bed can keep you calm, raise your energy and ensure better sleep quality.
Exercise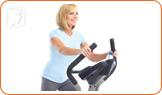 At any stage in life, exercise is important, but the truth is very few people get enough. Thirty minutes a day, five times a week is a good regime. You can do anything from a bike ride and walking to running. This will reduce tension and stress, clear the mind and improve overall health and well-being.
Keep Cool
Have you ever noticed that you're more annoyed and lethargic when warm? Then cool yourself off. Find the shade, keep out of saunas, take cooler showers, and become stress-free. This will help fatigue because your energy won't be depleted and it will help night sweats because warmth lends itself to hot flashes. Also, ensure that your bedroom is cool before sleep.
Herbal Supplements

A great way of balancing your hormones and dealing with menopause symptoms is to use natural supplements. These boost hormonal levels and help control night sweats and chronic fatigue.
Recommendations
Dealing with night sweats and fatigue can be difficult, but never feel that you don't have options to try. You can stop night sweats and fatigue that are affecting your life. The tips are just the tip of the iceberg, but will give you a great starting point to treat your menopause symptoms.
Sources
BMJ Group. "Menopause: What Is It?" Patient Leaflet, 2007.
Hutchinson, Susan, M.D. "The Stages of a Woman's Life: Menstruation, Pregnancy, Nursing, Perimenopause, Menopause." November 2007.
Love, Susan, M.D. Menopause and Hormone Book. New York: Three Rivers Press, 2003.