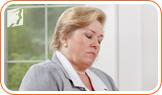 Fatigue affects many women during the menopausal period, and if you are one of them, then you have probably found that its effects are having a negative influence on your daily life. Well, the good news is that by making simple changes to your lifestyle and diet, you can fight fatigue during menopause and reduce its troubling symptoms.
Meal Plans to Help Combat Fatigue
Making changes to your diet is one of the most effective ways of minimizing fatigue. Often, the most difficult part of a recommended dietary change though is conjuring up meals that incorporate the right foods. Food is fuel for the body so eating the right foods will provide you with the energy you need to live a normal lifestyle. Here are a few ideas:
Meal 1
Breakfast: Oatmeal

Add flaxseed or nuts to a bowl of oatmeal for extra energy. Oats will replenish your energy reserves, but also keep you feeling full for a longer period of time, stopping you from overeating, which causes fatigue.
Snack: Fruit
Alkaline forming foods are important to keep pH levels balanced. Most fruits fall under this category. Perhaps have an apple, a portion of grapes or some strawberries.
Lunch: Cheese, Tomato, and Avocado Sandwich

These three foods are all recommended for combating fatigue because of their protein content, but you must ensure to use white cheese and whole wheat bread. White bread doesn't contain enough fiber.
Snack: Dark Chocolate
New studies suggest that people who eat a small amount of dark chocolate will be less fatigued. It is thought that dark chocolate enhances the action of neurotransmitters which are responsible for balancing mood and sleep.
Dinner: Steak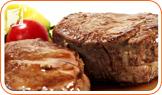 A deficiency of iron can cause women to become fatigued, but eating some red meats can help combat this. However, avoid red meats for lunch because the body uses a lot of energy to digest foods like steak. Enjoy a small steak with a spinach salad on the side to add magnesium into your diet.
Meal 2
Breakfast: Eggs, Sausage, and Beans
This breakfast choice will not only provide you with energy but it is also appetizing and substantial. All beans are high in fiber and known for their ability to energize the body for long periods of time.
Snack: Dried Fruits or Nuts
These all make for a tasty snack and are often consumed before exercise because they provide energy. However, they are also associated with weight gain, so eat in moderation and avoid (high fat) peanuts.
Lunch: Rice and Vegetables

Boil some rice and add broccoli, peas, mushrooms to it. Also add a spice if you want to make it more flavorsome. Alternatively, if you want a cold lunchtime dish, swap the rice for couscous.
Snack: Yogurt
This is a great source of quick energy because it is in liquid form, so it gets to work quicker. Keep your energy levels high for the afternoon and breeze through your last few hours at work.
Dinner: Three-Bean Salad

Mix kidney beans, chickpeas, and cannelloni beans with onion, a diced tomato, red pepper, and celery. Add a table spoon of olive oil, some vinegar and some parsley. Make dinner your lightest meal of the day.
Recommendation
Making lifestyle changes is one of the most effective ways of combating fatigue. However hard it may seem, it is well worth trying. Fatigue affects 80% of menopausal women, but many will suffer from it for longer than they have to. Follow this link to find out more about the causes of fatigue and what other methods are effective for treating menopausal fatigue.
Sources
Hutchinson, Susan M.D. "The Stages of a Woman's Life: Menstruation, Pregnancy, Nursing, Perimenopause, Menopause". November 2007.
Love, Susan M.D. Menopause and Hormone Book. New York: Three Rivers Press, 2003.
BMJ Group. "Menopause: What is it?" Patient Leaflet. 2007.