Reviewed on January 29, 2008
New research suggests that calcium and vitamin D supplements may be useful in preventing weight gain during menopause. Women going through menopause often experience unusual weight gain, especially around the abdomen, which can be a risk factor for other health problems, such as heart disease.
The most effective method to avoid and manage weight gain during menopause is to reduce daily caloric consumption and augment daily caloric expenditure (diet and exercise). The Women's Healthy Lifestyle Project tracked 535 women aged 44 to 50 for five years. The women in the test group followed a reduced calorie and low-fat diet (1,300 calories per day, 25% of calories from fat) and added exercise. After five years, 55% of the test group women maintained or lost weight, as opposed to 26% of the controls.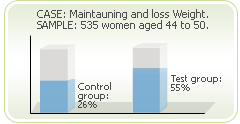 Other factors may also aid in preventing weight gain during menopause. A recent article indicates that in women who are lacking in calcium, calcium and vitamin D supplements can be effective in helping to manage weight. A trial followed 36 282 postmenopausal women 50 to 79 years of age for 7 years. Women in the test group took a daily dose of 1000mg calcium and 400 IU of vitamin D, as opposed to placebo.diet and exercise to avoid weight gain.
Women taking calcium supplements were 11% less likely to gain weight after three years. Given that a considerable percentage of the US population is deficient in calcium, menopausal women may want to consider calcium and vitamin D supplements not only to help manage weight gain, but in the interest of overall health.
Sources
Caan B, Neuhouser M, Aragaki A, Lewis CB, Jackson R, LeBoff MS, Margolis KL, Powell L, Uwaifo G, Whitlock E, Wylie-Rosett J, LaCroix A. "Calcium plus vitamin D supplementation and the risk of postmenopausal weight gain." Arch Intern Med. 2007 May 14;167(9):893-902.
Poehlman ET, Tchernof A. "Traversing the menopause: changes in energy expenditure and body composition." Coron Artery Dis. 1998;9(12):799-803.
Simkin-Silverman LR, Wing RR, Boraz MA, Kuller LH. "Lifestyle intervention can prevent weight gain during menopause: results from a 5-year randomized clinical trial." Ann Behav Med. 2003 Dec;26(3):212-20.