Review on October 17, 2008
Women are less prepared than men to undergo the physical, psychological, and/or emotional sexual changes that come with age, such as vaginal dryness or impotency, a recent survey shows. Most of the 705 U.S. adults between the ages of 50 and 70 who were surveyed agree that decreased frequency, physical ability to have or desire for sex is expected with age, but 61% of women reported that they were not ready to experience menopause-induced sexual symptoms, such as vaginal dryness , whereas only 51% of men where unprepared when their sexual abilities or appetite waned with age, the survey shows.
The survey, called "Sex, Menopause & Relationships," sponsored by Duramed Pharmaceuticals Inc., shows that while 55% of all male and female respondents reported that sex is important to their over all relationship satisfaction, 71% believe that less frequent sex is expected with age.
However, 67% of women, compared to only 59% of men, reported having experienced symptoms that affected their ability to have sex, such as dry vagina in women and impotency in men.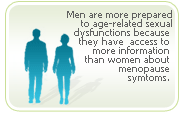 "The survey reveals a knowledge gap about the challenges women and men experience as they age," says David B. Schwartz, M.D. practicing Obstetrics & Gynecology at Christ Hospital in Cincinnati, Ohio. "The majority of people surveyed believe men are more likely to experience sexual symptoms than women. This may be due to the volume and ease of accessibility to information about erectile dysfunction. Conversely, most women face sexual symptoms as they go through menopause, with less information readily available to them."
The survey suggests that women are not receiving the proper education about menopause symptoms related to sex, such as vaginal dryness or loss of libido. Up to 70% of menopausal women experience vaginal dryness, which occurs when the vagina's natural lubricants cease being created with sexual arousal.
"There seems to be a lack of knowledge about the vaginal symptoms of menopause in women and the treatments available. If women are experiencing vaginal dryness and painful sex, these may be symptoms associated with their menopause," says Dr. Schwartz. "Women experiencing these symptoms may be candidates for estrogen therapy applied locally, which can be prescribed by a healthcare practitioner. I encourage women to explore treatment options with their healthcare providers, and discuss these with their partners."
"The survey clearly illustrates the importance of communication in a relationship because it shows that partners who are more understanding of sexual issues are more satisfied with their relationships," says Susan Yager-Berkowitz noted relationship author. "Communication is important in any relationship and I encourage couples who would like to continue a sexual relationship as they age to be open with their partners."
The survey also revealed:
Among female respondents who reported experiencing menopause-induced sexual symptoms, symptoms experienced include vaginal dryness (72%), low libido (70%) and pain with sex (34%).
Among male respondents who reported experiencing sexual symptoms, symptoms include an inability to sustain an erection (82%), an inability to get an erection (50%) and low libido (27%).
Of those who reported experiencing symptoms nearly two-thirds (63%) of women and (59%) of men have sought treatment. Fifty-one percent of men seeking treatment reported seeking prescription medication for erectile dysfunction while 55% of women seeking treatment reported use of over-the-counter lubricants, creams or herbal supplements.
Sources
"Vaginal Dryness". Mayo Clinic Health Resource. 2007
"Vulvovaginal Symptoms". The Changing Body: Menopause Handbook. www.menopause.org
Love, Susan M.D. Menopause and Hormone Book. New York: Three Rivers Press, 2003.