Review on June 05, 2009
Female Sexual Dysfunction (FSD) is a medical condition affecting 43% of women, particularly post-menopausal women. Vaginal dryness is an irritating symptom of this condition. Vaginal dryness is the decrease in lubrication in the vaginal area which can often make sex painful. This vaginal dryness may also contribute to a diminished interest in sex.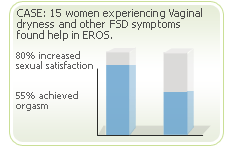 Remedies for vaginal dryness have historically included lubricants and female sex hormones in attempts to make sex pleasurable again for women. But the days of messy lubricants and unsafe hormone replacement therapy may be over. UroMetrics Inc has manufactured a device to stop vaginal dryness and help women orgasm. It has been approved by the FDA to be sold, with a doctor's prescription, to treat FSD.
Eros works as such: a soft suction cup is placed over the clitoris (female organ of sexual arousal) increasing blood flow. The tube that attaches the cup to the hand-held batter-operated device stimulates blood flow after the vacuum is turned on. Minutes later the clitoris becomes engorged, and secretion is stimulated. Vaginal dryness is no longer a problem.
A study done by Boston University put Eros to the test, observing 15 women experiencing vaginal dryness and other FSD symptoms. The study showed that Eros aided in some women achieving orgasm for the first time. More than 80% reported increased sexual satisfaction, and 55% achieved orgasm. Patients also reported greater genital sensation and vaginal lubrication.
Eros proves to be a potentially healthy treatment method of vaginal dryness and a positive alternative to oral treatments such as Viagra or hormone replacement therapy. Menopausal women should ask their doctors about Eros.
Sources
"Device to aid female orgasm." 4 May, 2000. BBC Health