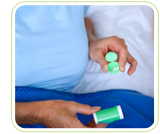 Review on January 05, 2010
Many menopausal women look for solutions to the uncomfortable side effects which can occur at this time of their lives. Unfortunately the hunt for relief from menopause problems does not stop post menopause, when many women find themselves at risk from a host of conditions. Breast cancer and cardiovascular disease in particular, are a lot more common in postmenopausal women than their younger counterparts. The search for natural alternatives to hormone replacement therapy has led many menopausal women to take multivitamin supplements although the benefits of such supplements are currently unknown.
Recent research has looked into the effects of multivitamin supplements on the prevention of breast cancer and cardiovascular disease in postmenopausal women. A collection of 161,808 menopausal women took part in this trail as part of the Women's Health Initiative. These women took part in either observational or clinical trails which determined the effectiveness of the supplements they took. Supplements included dietary modification, vitamin D and hormone therapy. Such menopausal women were inducted the trail from 1993 to 1998 and on average the women were followed for 8 years for both the clinical and observational studies.
Researchers recorded cases of breast (invasive), rectum, endometrium, kidney, bladder, stomach, ovary, and lung cancer, while cardiovascular problems were recorded as myocardial infarction, stroke, and venous thromboembolism. The over all death rates of the women involved was also noted.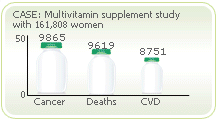 Of all the menopausal women who took part in this trail 41.5% took supplements. At the end of the trail 9619 cases of cancer had been reported, 8751 cases of cardiovascular disease and 9865 deaths had also been noted. After in-depth analysis, researchers found that such results represented no identifiable benefit to menopausal women from the intake of multivitamins as opposed to other treatments such as hormone therapy.
The trails highlighted here conclude that no discernable improvement in a menopausal women's risk of contracting cancer or cardiovascular disease can be gained by the consumption of multivitamins. Although multivitamins may help postmenopausal and menopausal women feel better generally and reduce the symptoms of menopause it is important for such women to be aware that multivitamins can not be used as a cure for potentially more serious diseases. Menopausal women should consult their doctor in order to discover the risk they are at from such conditions. Medical professionals may also be able to suggest other treatments for the prevention of cancers and cardiovascular conditions which are most prevalent in postmenopausal women.