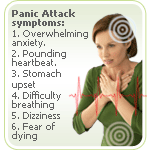 Review on June 09, 2009
Although some women find themselves experiencing a form of panic disorder as they go through menopause, until recently medical professionals have not found research to prove that menopause and its symptoms are a direct cause of such panic disorder. A study completed in 2004 by the University of Siena, Italy, may be about to change that. Researchers designed and completed a controlled study to discover the links between panic disorders and menopausal changes in a woman's body.
This study used a "Climacteric Symptoms Questionnaire" to assess the level of panic disorders in 45 women. All these women were aged between 45 and 60 and were tested using the evaluation of psychological symptoms often found during menopause, the Kupperman Index which accounted for climacteric symptoms and the plasma level of allopregnanolone.
The results indicated that 18% of these women exhibits significantly higher values in the Kupperman Index, the SCL-90 total, and the CSQ. In the words of the researchers, "Panic disorders may arise and worsen with menopause, in correlation with greater severity of the climacteric syndrome in its physical and psychological symptoms".
Due to the often frightening nature of panic disorders, it may come as a relief to women to finally know the cause of such disorders can be pinned down to menopause. Treatment for panic disorders is usually dependent on the patient and needs to be decided by a doctor or medical professional. Curing panic disorders may in fact come down to the treatment of other menopausal symptoms which are the root of the problem. A wide range of menopause symptoms can often be distressing and it's no wonder that such drastic changes in the body can be so stressful.
Sources
"Panic disorders in menopause: a case control study", Maturitas. 2004; 48(2):147-54 (ISSN: 0378-5122), Claudia P; Andrea C; Chiara C; Stefano L; Giuseppe M; Vincenzo DL; Felice P; Paolo C Psychiatry Section, Department of Neurosciences, University of Siena, Italy.