Review on December 01, 2009

Osteoporosis is a condition that lowers bone density and it currently affects around 17 to 23 million women over the age of 50 years in the United States. The parathyroid hormone (PTH) is known to reduce vertebral fractures and increase spinal bone density in both postmenopausal osteoporosis and glucocorticoid-induced osteoporosis, but it also decreases radius bone density. The long-term safety of this hormone as a treatment for osteoporosis remains uncertain. Initial investigations into PTH have been overlooked due to concerns about undesirable effects at non-spine areas. This article examines evidence for the effectiveness and safety of PTH in treating osteoporosis.
A year-long trial measuring osteoporosis treatment with PTH plus estrogen hormones found a greater increase in spine and total hip bone mass density (BMD) compared with estrogen hormones treatment alone. Though, changes were not notable with either PTH plus estrogen hormones or estrogen hormones alone at the femoral neck, trochanter, or radius.
Most studies into osteoporosis have focused on postmenopausal osteoporosis and have established that combined PTH and HRT had no benefit over estrogen hormones alone at the hip or radius. The impact of therapy on the radius showed a very slight decrease compared with estrogen hormones alone. However, one particular trial into osteoporosis treatment showed a slight BMD increase with PTH plus estrogen hormones compared with estrogen hormones alone at the radius.
When HRT was compared with HRT plus PTH, vertebral fracture occurrences were lower with PTH plus estrogen hormones vs. estrogen hormones alone, although differences between groups were not extensive.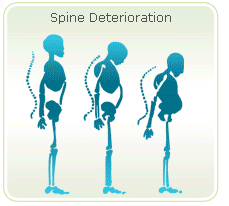 Some osteoporosis studies into bone density outcomes have indicated that concurrent PTH and estrogen hormones use had an advantage over estrogen hormones alone at the spine in women suffering from postmenopausal osteoporosis.
Focusing on postmenopausal osteoporosis, when combined with standard oral or transdermal estrogen hormones alone, PTH induced increased BMD at the lumbar spine and femoral neck, but not at the femoral trochanter, compared with estrogen hormones alone. Yet, estrogen and progesterone components were not investigated independently and it's probable that every hormone component has differing effects on bone metabolism.
With regards to postmenopausal osteoporosis, the addition of PTH to combination HRT or alendronate had advantages over HRT alone at the lumbar spine, but effects at the radius, trochanter, and hip are inconsistent. For glucocorticoid-induced osteoporosis, combined PTH and estrogen replacement may be of added benefit compared with estrogen replacement alone at the spine, but often not at the total hip or radius. It seems that in treating osteoporosis, PTH lowers the occurrence of radiographically detected spinal fractures, decreases the number of nonvertebral fractures, and may boost the ability of estrogen replacement therapy to reduce fractures.
Sources
Cleveland Clinic.(n.d)."Menopause and Osteoporosis".Retrieved from http://my.clevelandclinic.org
American Physical Therapy Association.(n.d)."What You Need to Know about Osteoporosis".Retrieved from www.apta.org.
New York State Department of Health.(n.d)."Calcium and Healthy Bones".Retrieved from www.health.state.ny.us.
National Osteoporosis Foundation.(n.d)."Prevention: Who's at Risk". Retrieved from www.nof.org.