Review on March 11, 2009
While the idea of the temperamental artist has prevailed throughout the ages, in recent studies this widely held stereotype has been shown to hold scientific weight. Mood swings can be difficult for women to live with but in the long run they may produce benefits of an artistic nature.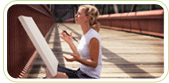 Articles in both the American Journal of Psychiatry and Science News have both recently extolled this link in between mood swings and creativity. In a study undertaken by the University of Pennsylvania, 80% of a group of prominent writers of the well known University of Iowa's writer's workshop had experienced some form of manic depressive or severe depression during their lives. In addition, 30% of the writers surveyed were diagnosed alcoholics.
In this same study, not only writers were prone to the creative benefits of mood swings. The University of Tennessee undertook a similar study surveying the effects of mood swings on artistic output. A select group of twenty French artists, including musicians, sculptors, and artists of other mediums, were given psychological evaluations. A striking 70% of those artists were found to possess one form or another of affective disorder, characterized by mood swings.
While further research is necessary to discover why this is the case, mood swings can be more than a nuisance, in fact leading to artistic output of a more productive nature.
Sources
"Moods and the muse: a new study reappraises the link between creativity and mental illness," Science News, June 17, 1995.
Bower, Bruce. "Mood swings and creativity: new clues," Science News, October 24, 1987.