Review on March 19, 2009
Where are my keys? Was last week your birthday? What was your name again?
These questions will likely sound familiar to many women going through menopause, and when asked, they may be an indication that a woman is experiencing memory lapses. To women who find themselves feeling disoriented because of small details forgotten throughout the day, memory lapses aren't fun and games.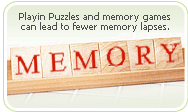 Yet, a new study shows that doing regular mental exercises and puzzles can boost memory and lead to fewer memory lapses.
The study, conducted by the Mayo Clinic in Rochester, Minnesota, looked at 197 people, ages 70-89, who suffered from memory lapses, and 1,124 people of similar ages without memory lapses. Study participants who limited their television watching and who engaged in activities such as doing cross-word puzzles, reading or having regular intelligent discussions were 50% less likely to develop memory lapses.
Although the study was conducted on elderly people, the scientists at Mayo Clinic said that the implications are much broader, and that anyone who keeps their brains fit with regular stimulation are less likely to suffer from memory lapses for the most.
Given these findings, it's possible that doctors will soon begin prescribing their patients a daily crossword puzzle or a limited dosage of television to beat memory lapses instead of a drug.
Perhaps more conventionally, naturopathic medical practitioners might subscribe ginkgo biloba, since it has been known to diminish memory lapses by realizing nootropic, also known as "smart cell" properties into a person's system.

Sources
Miller, Matthew. "Brain Exercises Heighten Memory." Philly.com
"How to Improve Your Memory." Depokmetro.com.